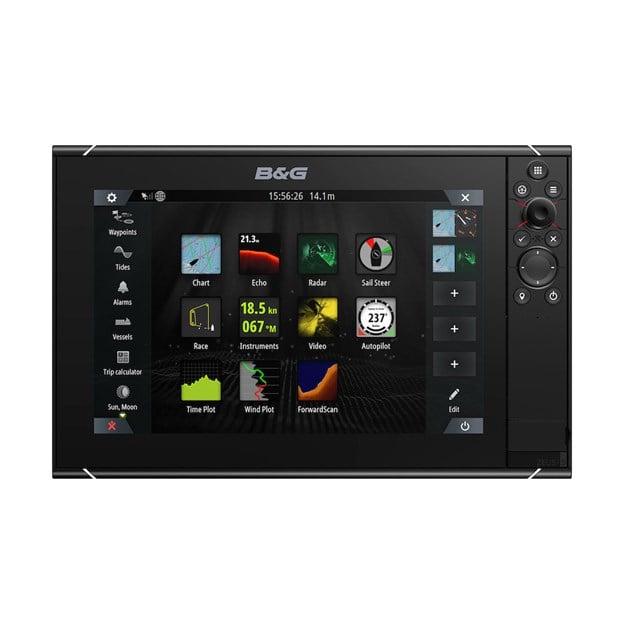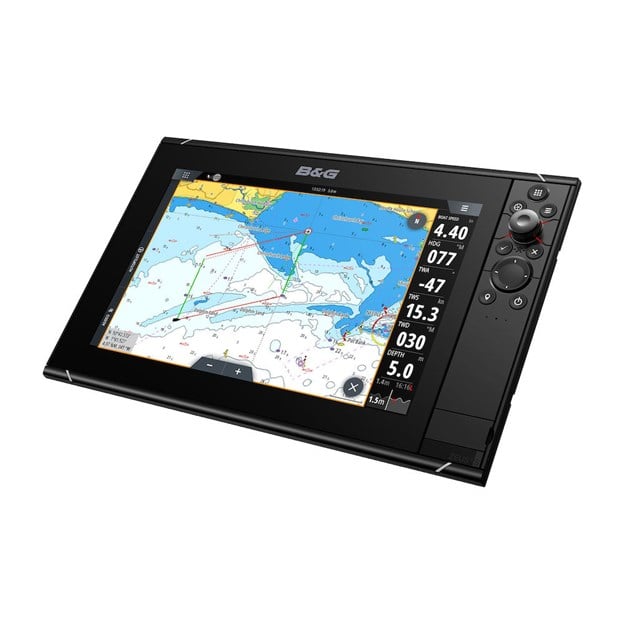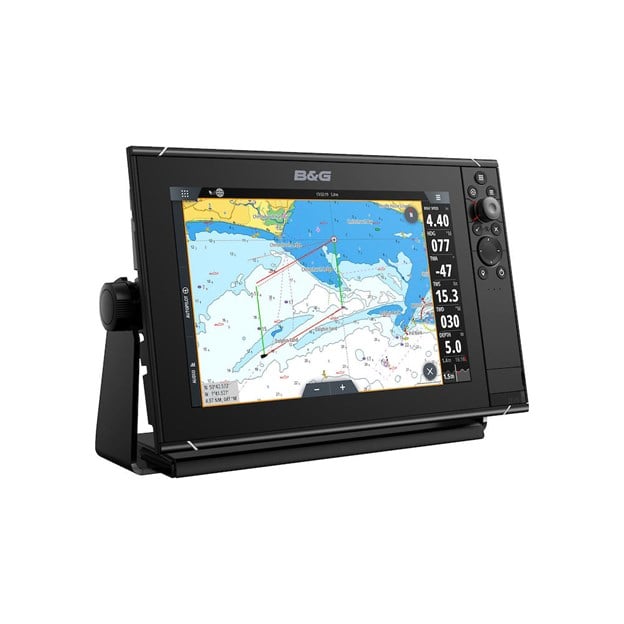 "https://www.bandg.com/assets/img/default-product-img.png?w=400&h=225&scale=both&mode=max"
Zeus® 3S 12 chartplotter with C-MAP cartography
SKU: 000-15409-002
000-15409-002
The Zeus 3S 12" is the ultimate super-fast sailing chartplotter and navigation system for blue water cruisers and racers. This ultra-bright, wide-angle display combines an all-weather 12-inch touchscreen with a rotary dial and keypad for ultimate control in all conditions. Easily leverage dedicated, race-proven sailing features such as SailSteer, Laylines, and RacePanel. Connect with online services and mobile devices using built-in Wi-Fi, and integrate seamlessly with a wide range of instruments and accessories for greater safety, performance, and enjoyment on the water.
The Zeus 3S series are the complete navigation solution for blue water cruisers and regatta racers. With superfast processors you can display up to 6 different information panels simultaneously, on the ultra-bright SolarMax IPS all- weather touchscreen, which is combined with a rotary dial and keypad for ultimate control in all conditions.
These easy to use chartplotters include all of B&G's unique and proven sailing features such as SailSteer, Laylines, and RacePanel and integrate seamlessly with a wide range of instruments and accessories for greater safety, performance, and enjoyment on the water.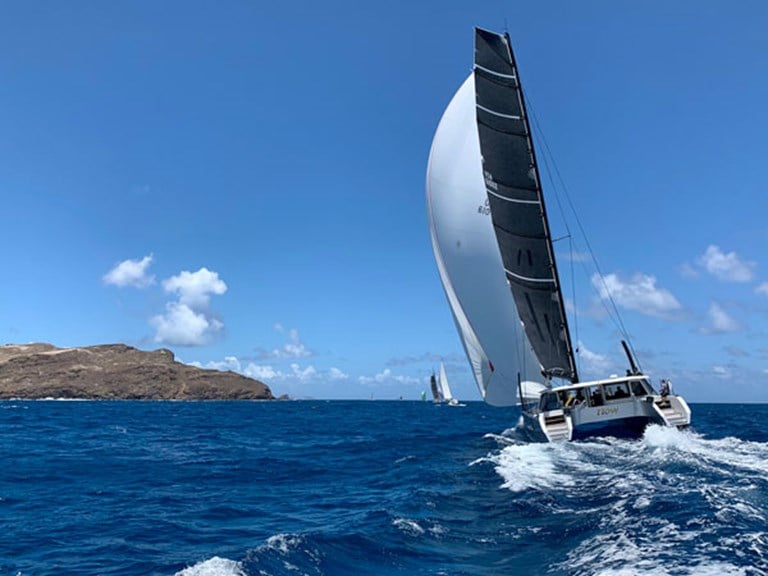 Exceptional Visibility
The SolarMAX IPS screen ensures perfect visibility in all conditions. Zeus 3S's screen has been tested to the limit in everything from tropical sunlight to the depths of the southern ocean and polar winters. You can see it through polarised sunglasses, and the responsive touchscreen works even in flying spray and rough sea.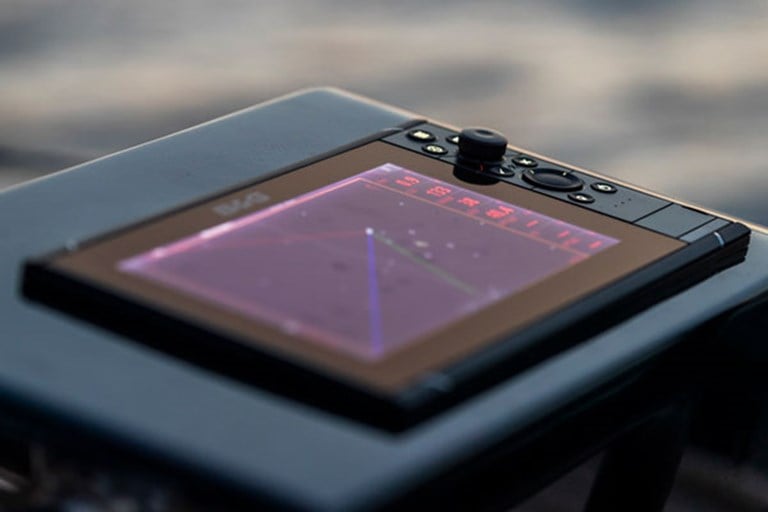 Super-fast processor for immediate response
Enjoy exceptional situational awareness thanks to Zeus 3S's high-performance processor. There's plenty of processing power to run charts, radar, ForwardScan and autopilot controls simultaneously without compromising on performance – giving you all the tools you need to enjoy the sailing, safe in the knowledge that you can monitor your surroundings.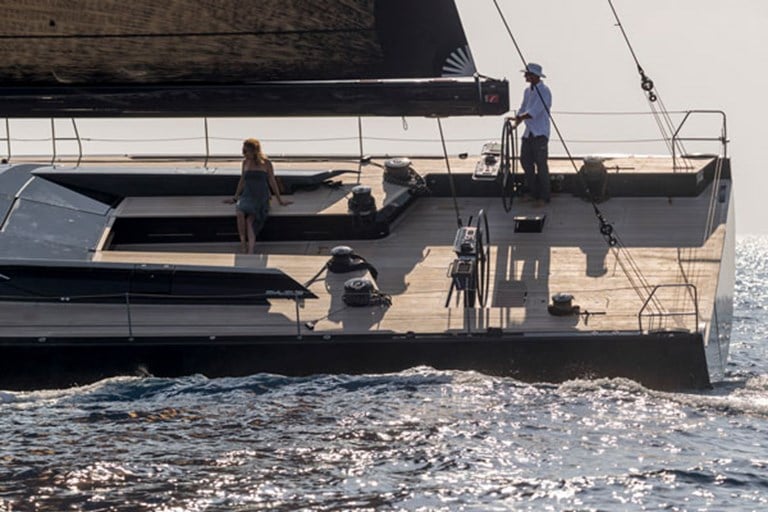 Dedicated Sailing Features for Cruising and Racing
Navigate with confidence with Zeus 3S's award winning sailing features: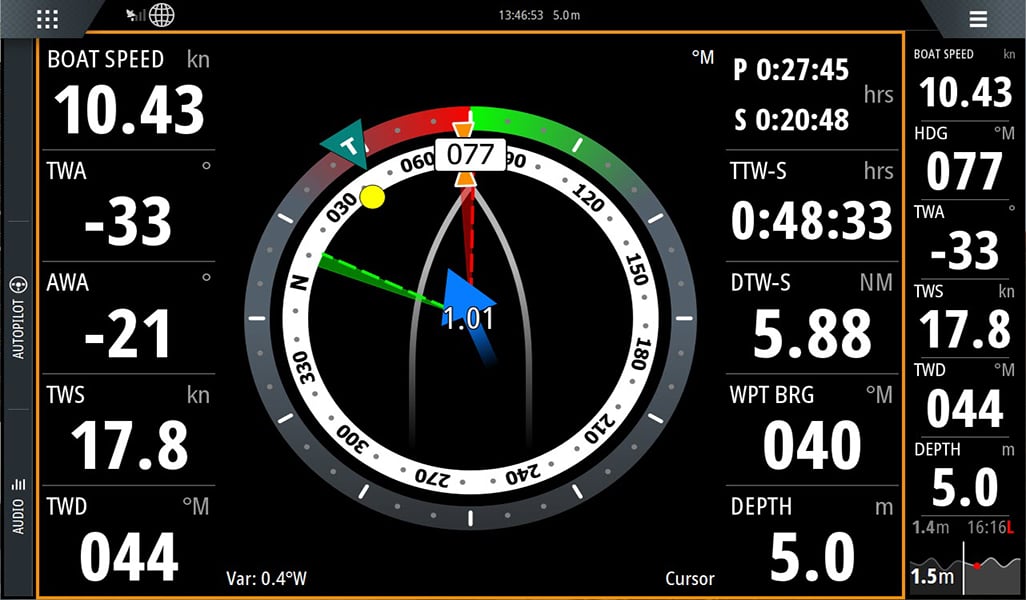 SailSteer
See all the data you need at a glance on one easy-to-read display with SailSteer. See crucial wind, speed, tide, heading, course over ground, layline and waypoint information, overlaid on one screen to ensure you have the information you need at your fingertips.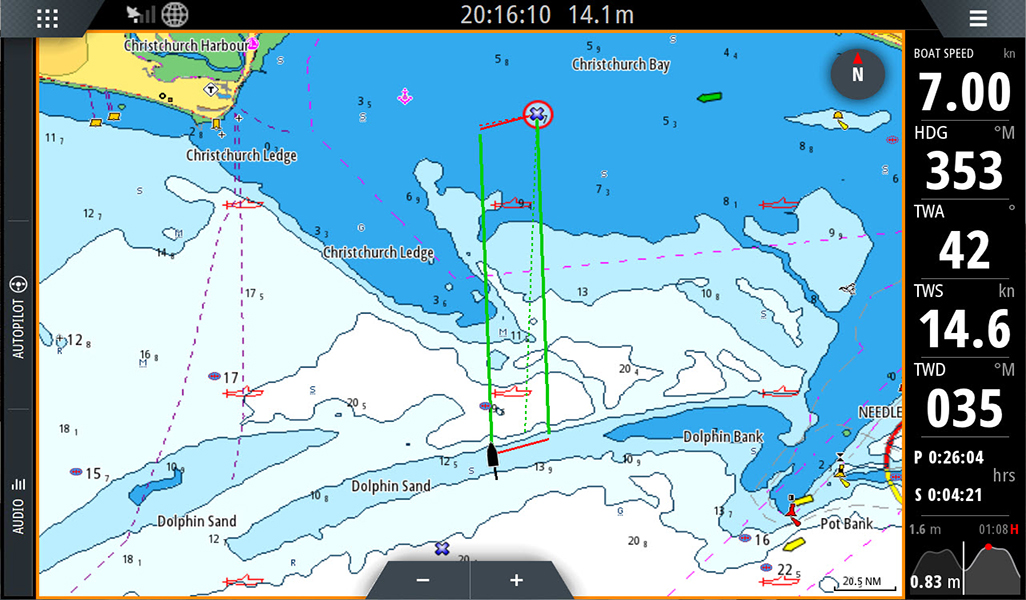 Laylines
Let Zeus 3S do the hard work: See your course and minimise your time spent beating with Laylines overlaid on your chart. See which way is best and ensure you tack in the right place to help you get to windward as efficiently as possible. Laylines even take into account tidal effects and wind shifts to plot the quickest course to the next waypoint.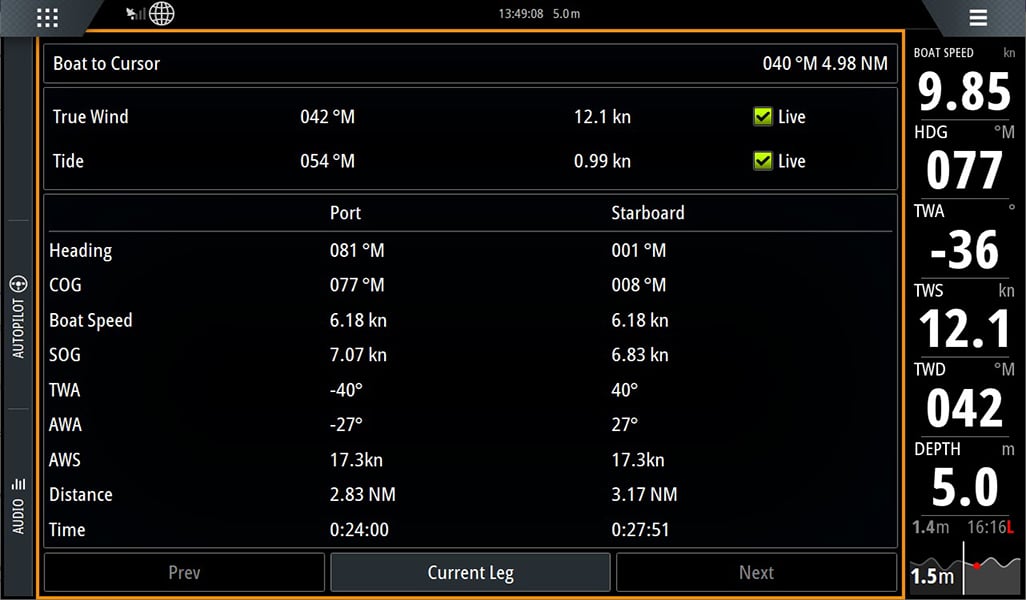 SailingTime
Plan effectively with SailingTime and know how long it will take to get to a waypoint, even if it's dead upwind. SailingTime calculates the time you'll spend on each tack, taking into account wind and tidal effects, to give you an accurate ETA at your destination.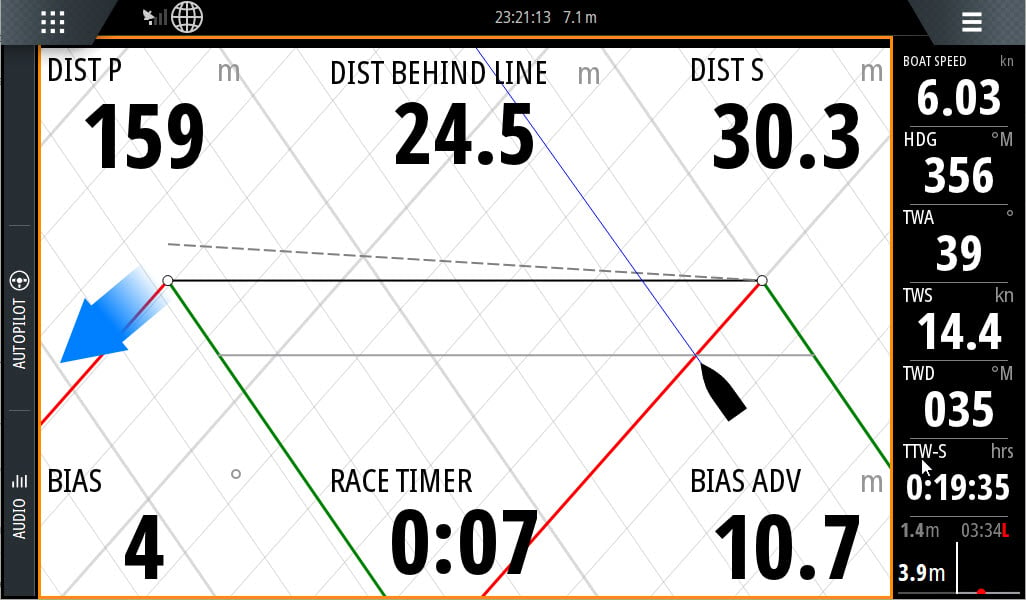 RacePanel
Be on the line as the gun goes with RacePanel. Enjoy easy-to-use features previously only enjoyed by Pro navigators to ensure you get the best start in the fleet, with time, distance and positioning information on a single clear display.
Seamless integration with your instruments
Enjoy a fully connected sailing experience and control and monitor your H5000 instrument system on board from the display. Zeus 3S can also take full control of on-board systems using Naviop and CZone, allowing fingertip command and monitoring of lights and systems on board.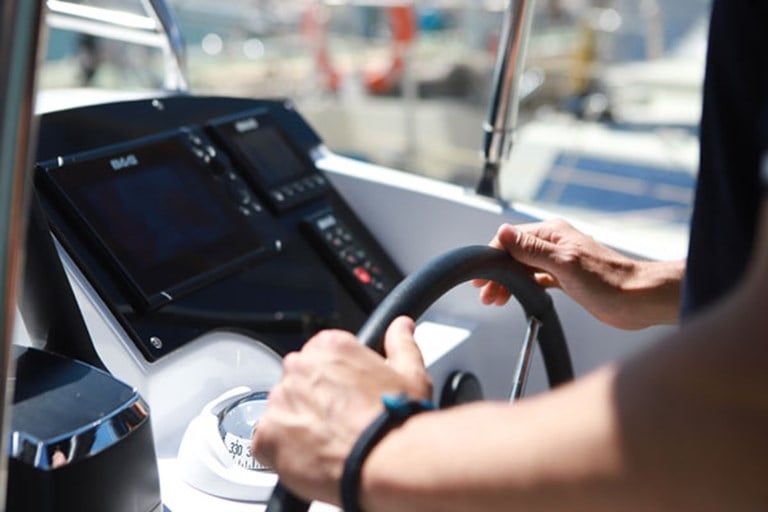 Integrated keypad for complete control
Zeus 3S has an integrated rotary dial and keypad that can take over control of all functions in extreme conditions, along with customisable keys for instant access to frequently-used functions.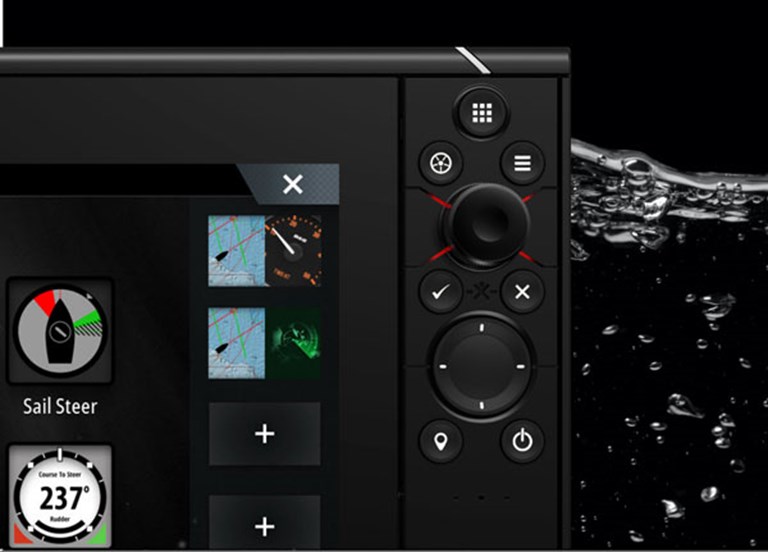 Easy to expand your network
Just add power to enjoy Zeus 3S as a versatile standalone chartplotter with first-rate navigation functions. For the best experience and to take advantage of our award-winning sailing features, network your chartplotter with instruments and sensors using industry standard NMEA 2000 connectivity.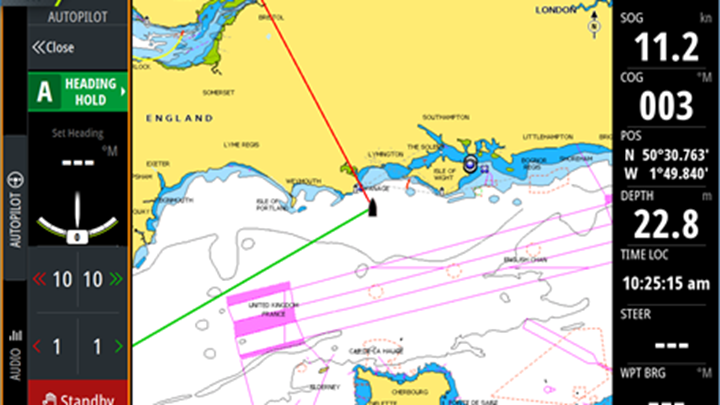 Autopilot control
Zeus 3S sits at the heart of your boat – and you can take command of commissioning and controlling your B&G autopilot from your Zeus 3S's touchscreen. Tack, gybe, sail to wind or compass heading and take advantage of the advanced sailing algorithms that make B&G Pilots the best in their class.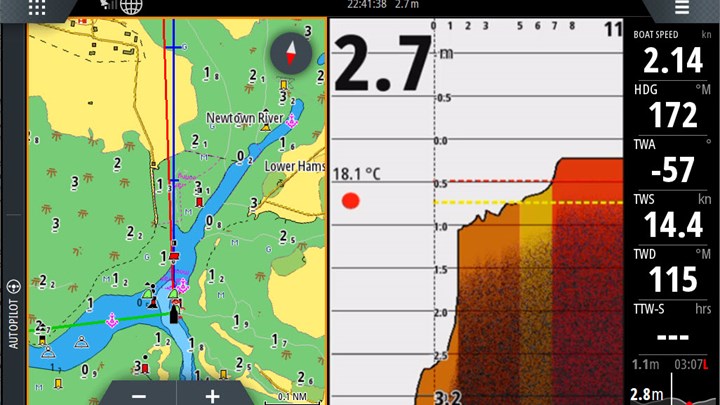 ForwardScan
See what lies ahead under the water by adding a ForwardScan transducer. Benefit from a real-time two-dimensional view of the seabed in front of your boat. Navigate into shallow anchorages and poorly charted areas with ease and know what lies ahead with confidence.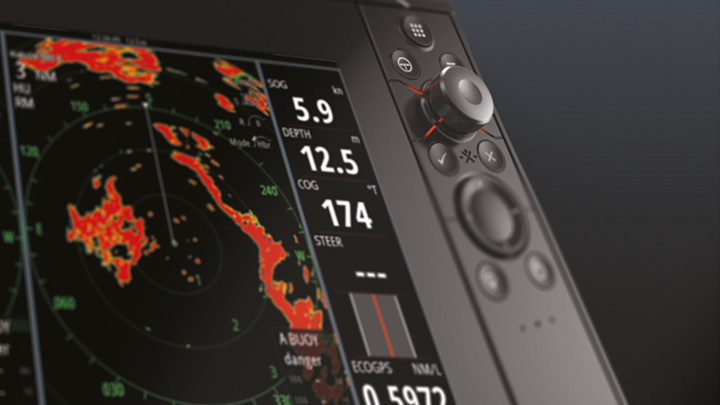 Radar
Negotiate busy shipping lanes, see through darkness and poor visibility and track weather cells with B&G Halo Radar on your Zeus 3S.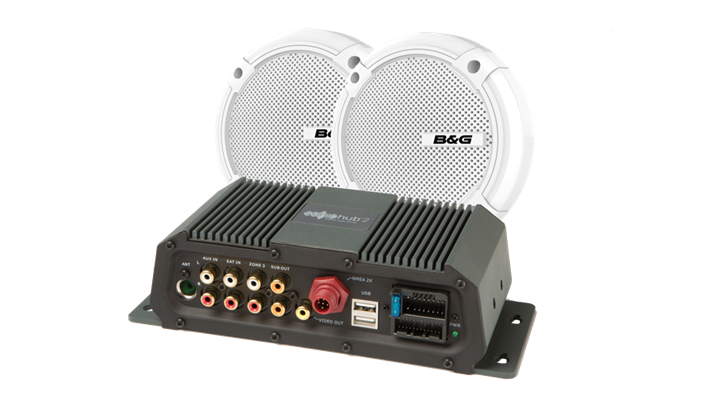 SonicHub
Add a SonicHub to take control of your onboard entertainment from your Zeus 3S display. With integrated Bluetooth, stream music from your smartphone or tablet, or listen to music on a USB drive or AM/FM radio. Control everything including volume and individual zones from your Zeus 3S display.
Mapping options
Zeus 3S chartplotters support a wide range of leading cartography, from C-MAP and Navionics. Take advantage of advanced mapping features including autorouting, dynamic tides and currents, aerial photos and detailed harbour charts to ensure you know exactly what lies beneath your keel at all times.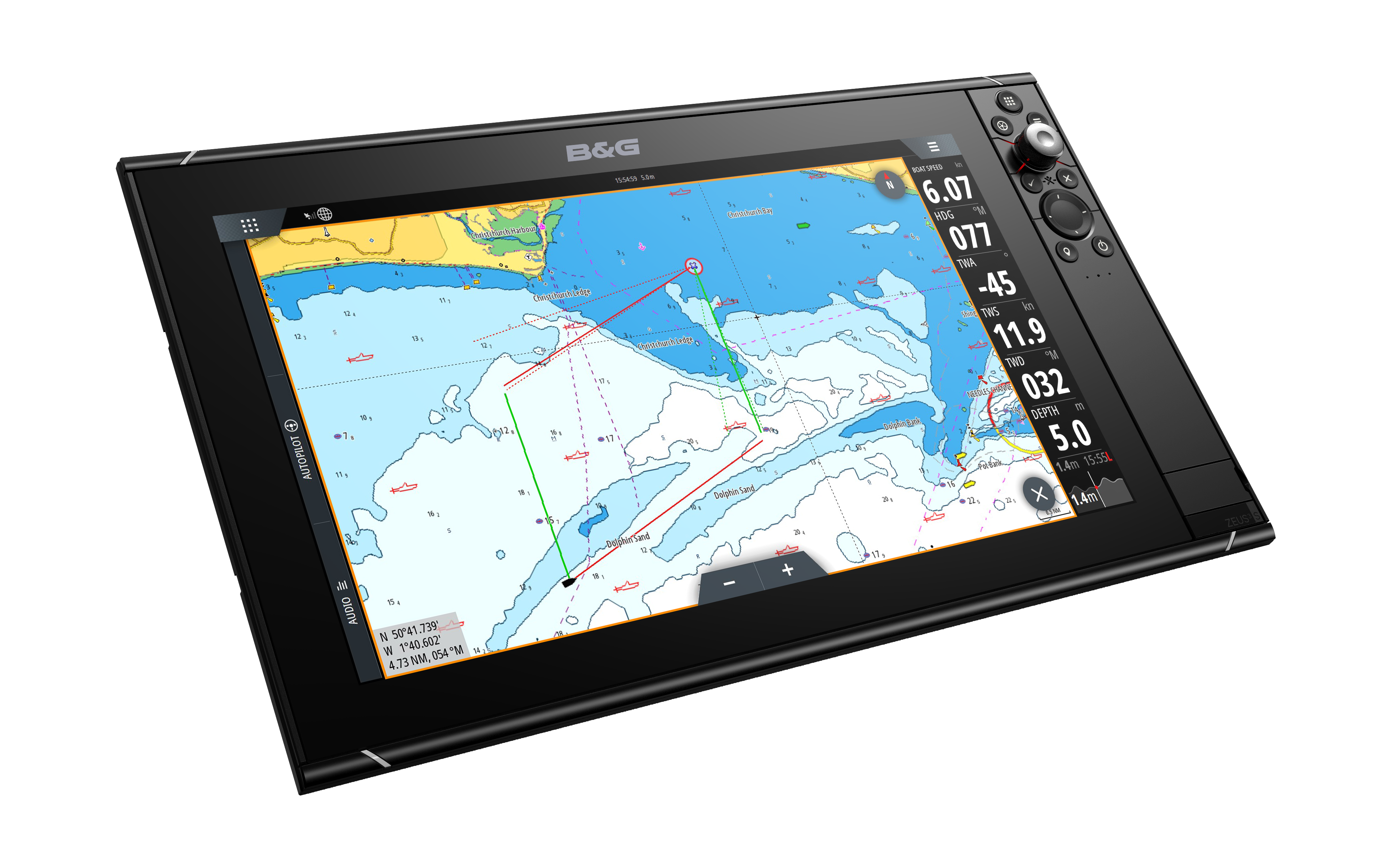 Looking for a 7" display?
The Zeus 3S range comprises 9, 12 and 16" displays, but the Zeus³ 7 model from our previous Zeus³ range is still available and complements the larger screen sizes of the Zeus 3S range with a smaller display for yachts with limited installation space.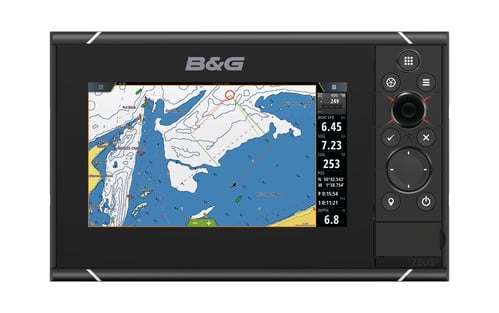 Key Features
The fastest / most responsive sailing chartplotter and navigation display yet
SolarMAX IPS Screens Best in class visibility from all angles with and without polarised glasses
Connects to B&G's performance network modules for the ultimate offshore performance: Halo Radar, Autopilot, ForwardScan™, NMEA 2000 and 0183, Integrated Pilot Control
Full suite of sailing features: Sailsteer, PredictWind, RacePanel, LayLines and SailingTime
Up to 6-Way information panel split on the display
Built in Wi-Fi
Connect with smartphones, tablets, and internet hotspots
Specifications
Display

Display Resolution

800 x 1280

Screen Brightness

1200 nits

Viewing Angles

80° top/bottom, 80° left/right

Connectivity

Ethernet Ports

2 x 5 pin yellow connector x 10/100 Mbit

Connectivity Wi Fi

Internal

N2K PG Ns

Receive only59392 ISO Acknowledgement59904 ISO Request60160 ISO Transport Protocol, Data Transfer60416 ISO Transport Protocol, Connection M.65240 ISO Commanded Address60928 ISO Address Claim126208 ISO Command Group Function126992 System Time126996 Product Info126998 Configuration Information127233 Man Overboard Notification (MOB)127237 Heading/Track Control127245 Rudder127250 Vessel Heading127251 Rate of Turn127252 Heave127257 Attitude127258 Magnetic Variation127488 Engine Parameters, Rapid Update127489 Engine Parameters, Dynamic127493 Transmission Parameters, Dynamic127500 Load Controller Connection State / Control127501 Binary Status Report127503 AC input status127504 AC Output Status127505 Fluid Level127506 DC Detailed Status127507 Charger Status127508 Battery Status127509 Inverter Status128259 Speed, Water referenced128267 Water Depth128275 Distance Log129025 Position, Rapid Update129026 COG & SOG, Rapid Update129029 GNSS Position Data129033 Time & Date129038 AIS Class A Position Report129039 AIS Class B Position Report129040 AIS Class B Extended Position Report129041 AIS aids to Navigation129283 Cross Track Error129284 Navigation Data129539 GNSS DOPs129540 AIS Class B Extended Position Report129545 GNSS RAIM Output129549 DGNSS Corrections129551 GNSS Differential Correction Receiver Signal129793 AIS UTC and Date Report129794 AIS aids to Navigation129798 AIS SAR Aircraft Position Report129801 Cross Track Error129802 AIS Safety Related Broadcast Message129283 Cross Track Error129284 Navigation Data129539 GNSS DOPs129540 GNSS Sats in View129794 AIS Class A Static and Voyage Related Data129801 AIS Addressed Safety Related Message129802 AIS Safety Related Broadcast Message129808 DSC Call Information129809 AIS Class B "CS" Static Data Report, Part A129810 AIS Class B "CS" Static Data Report, Part B130060 Label130074 Route and WP Service - WP List - WP Name & Position130306 Wind Data130310 Environmental Parameters130311 Environmental Parameters130312 Temperature130313 Humidity130314 Actual Pressure130316 Temperature, Extended Range130569 Entertainment - Current File and Status130570 Entertainment - Library Data File130571 Entertainment - Library Data Group130572 Entertainment - Library Data Search130573 Entertainment - Supported Source Data130574 Entertainment - Supported Zone Data130576 Small Craft Status130577 Direction Data130578 Vessel Speed Components130579 Entertainment - System Configuration Status130580 Entertainment - System Configuration Status130581 Entertainment - Zone Configuration Status130582 Entertainment - Zone Volume Status130583 Entertainment - Available Audio EQ Presets130584 Entertainment - Bluetooth Devices130585 Entertainment - Bluetooth Source StatusTransmit60160 ISO Transport Protocol, Data Transfer60416 ISO Transport Protocol, Connection M.126208 ISO Command Group Function126992 System Time126993 Heartbeat126996 Product Info127237 Heading/Track Control127250 Vessel Heading127258 Magnetic Variation127502 Switch Bank Control128259 Speed, Water referenced128267 Water Depth128275 Distance Log129025 Position, Rapid Update129026 COG & SOG, Rapid Update129029 GNSS Position Data129283 Cross Track Error129285 Navigation - Route/WP Information129284 Navigation Data129285 Route/Waypoint Data129539 GNSS DOPs129540 GNSS Sats in View130074 Route and WP Service - WP List - WP Name & Position130306 Wind Data130310 Environmental Parameters130311 Environmental Parameters130312 Temperature130577 Direction Data130578 Vessel Speed Components

NMEA 0183 Sentences supported

Input: GGA, GLL, GSA, GSV, VTG, ZDA, RMC, DBT, DPT, MTW, VLW, VHW, HDG, HDT, HDM, MWV, MWD, DSC, DSE, VDM. (Note AIS sentences are not bridged to or from NMEA 2000)Output: GGA, GLL, GSA, GSV, VTG, ZDA, RMC, DBT, DPT, MTW, VLW, VHW, HDG, MWV, MWD, TLL, TTM

NMEA 2000 Connectivity

1 x NMEA 2000 Micro-C port, 1 LEN

SD Card Storage

2 MicroSD slots, max. 32GB each. Larger if formatted to NTFS

Video

2 x composite (RCA connectors)video inputs. Optional video/ data cable required (P/N 000-00129-001)

Autopilot

Manouevres Turn Patterns

U-turn, Spiral-turn, C-turn, Zig-zag, Square-turn, Lazy S-turn, Depth contour tracking

Steering Modes

Auto, Nav., No Drift, Follow up, Non-follow up, Turn patterns, Standby, *Wind, *Wind NAV. (*Boat type set to Sail)

Approvals

Approvals Compliance

CE, C-Tick, HDMI, EN 60950-1:2006, EN 60945:2002 EN 300 440-2, V1.4.2

Electrical

Power Consumption max

28 W

Recommended Fuse Rating

5A

Supply Voltage

10 - 31.2 V DC

Environment

Humidity

IEC 60945 Damp heat 66°C (150°F) at 95% relative (48 hr)

Operating Temperature Range

-15°C to +55°C (5° F to 131° F)

Shock Vibration

100 000 cycles of 20 G

Storage Temperature Range

-20°C to +60°C (4°F to 140°F)

Waterproofrating

IPX6 and 7

GPS

Correction

WASS, MSAS, EGNOS, GLONASS Galileo, Beidou, QZSS.SBAS

GPS Receiver Channels

34 Channels

Position Accuracy

Horizontal Accuracy 3 m (9.8 ft)

Time to First Fix

Cold start 50 sec, Satellite Reacquisition 5 sec

MFD

AIS

Receive AIS data over NMEA 2000 or *NMEA 0183 (*NMEA 0183 has to be wired to all NSS processors)

Autopilot

Full auto pilot control and commissioning

Cartography included

C-MAP

Digital Switching

C-Zone, Naviop

GPS

Built-in 10 Hz GNSS receiver for GPS and GLONASS, supports combinations with Galileo, Beidou, QZSS.SBAS (WAAS, EGNOS, MSAS, GAGAN)

Multimedia

via SonicHub2, FusionLink, *Sirius, **JL Audio. *USA only, **AUST. & NZ only)

Sonar Compatibility

Two 9 pin Xsonic Sonar ports. Sonar port 1: Single channel CHIRP, 50/200 khz, HDI. Sonar port 2: Single channel CHIRP, 50/200 khz, TotalScan, LSS HD, ForwardScan. Compatible with: SonarHub, BSM-3, BSM-2, network echo sounders

Waypoints, Routes, Tracks

6000 waypoints, 500 Routes with 100 max route points, 50 tracks with up to 12,000 track points.

Weather

SiriusXM via WM-3 / WM-4 (USA only), GRIB

Physical

Compass Safe

50 cm (1.7 ft)

Dimensions W x H x D

352 x 225 x 98 mm (13.84 x 8.87 x 3.82")with bracket: 377 x 241 x 120 (14.85 x 9.47 x 4.71)

Mounting Type

Bracket (Supplied) or panel mount

Other

Interface

Full touch screen (multi-touch ) and full keypad control, OP50 remote controllers

Languages

Standard Language Pack: English(US), English(UK), Danish, German, Spanish, Finnish, French, Greek, Icelandic, Italian, Dutch, Norwegian, Portuguese, SwedishOther languages supported by Unlock:Japanese, Korean, Thai, Chinese, Bulgarian, Hebrew, Croatian, Hungarian, Lithuanian, Latvian, Polish, Slovak, Turkish, Russian, Ukrainian, Arabic,Farsi