B&G® Zeus® S
Debuts Globally
Simplifying Sailing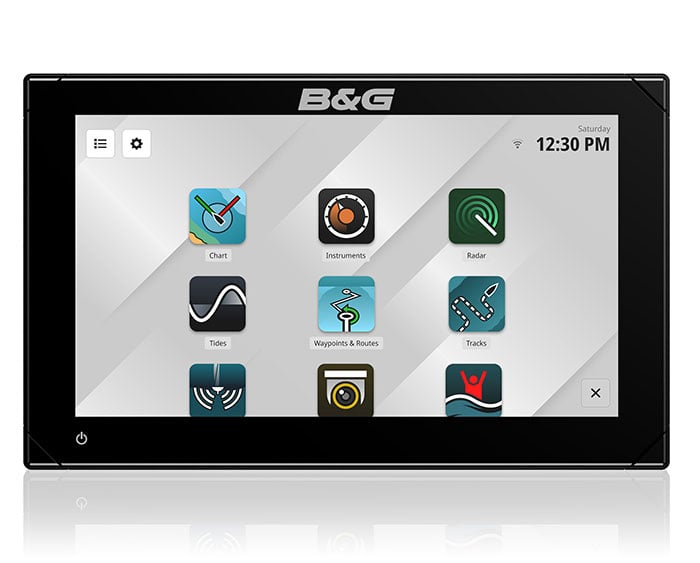 Southampton, UK (January 19, 2023) – B&G®, the world's leading sailing electronics manufacturer, unveiled the new B&G Zeus® S this week, the next generation of chartplotters in the B&G® range, running the new operating system, which has been built from the ground-up with ease of use at its core. Zeus® S was designed to make sailing easier, displaying information tailored to the sailor's needs in that moment, and hiding unnecessary clutter.
The Zeus® S comes with new sailing modes, preset dashboards and data views for a variety of sailing situations, along with many enhanced features for a simpler sailing experience. All of this is backed up by exclusive C-MAP® charting options, for the safest and easiest navigation.
"Zeus® S is our most intuitive chartplotter for sailing yet and is designed to be at the heart of your cruising system," said Kevin Steinbraker, VP and General Manager, Digital Systems of Navico Group. "Zeus S is the perfect solution for cruising sailors with simple sailing modes making it easy to see the data you want, when you want it."
Users simply need to select the relevant mode for their situation, providing just the right information needed for Cruising or Racing . Zeus S continues to support enhanced sailing features including updates for SailSteer™, LayLines, Routes, and more.
Zeus® S is compatible with C-MAP® DISCOVER™ X and REVEAL™ X charts, delivering perfectly matched next generation charting, and supporting the new Safety Alerts feature, which uses chart data to identify objects which may pose a collision risk and flags any identified risk of grounding. With highly accurate data supported by near-real-time updates, C-MAP® charts are packed with features, including tides and current projections, autorouting plus get quick, one-touch access to points of interest, tides, channels, and more.
"Zeus® S also integrates with the B&G® App, allowing users to plan trips, review routes, and manage waypoints from home, then sync once on board," said Steinbraker. "Sailors will love the connectivity options, with easy integration using NMEA® 2000 to connect to Autopilot, Instruments, Radar, Sailing Processors, Audio, Engines, and a wealth of other compatible products."
The Zeus S is available to the public beginning January 19, 2023, and starting at a retail price of $999. Customers can choose between 7-, 9- and 12-inch screen sizes.
Key Features of the B&G Zeus® S include:
Sailing Modes for Cruising and Racing, providing exactly the data you need for your situation
New Safety Alerts feature using C-MAP® cartography for collision avoidance, including anti-grounding
Includes B&G's award-winning sailing features, as well as unique new updates to Laylines, Routes, SailSteer™ and StartLine
C-MAP® DISCOVER X and REVEAL X charts feature highly accurate data with intuitive viewing options for easy navigation
High definition SolarMAX IPS touch screen, viewable in all conditions, even with polarized sunglasses
Full integration with HALO® Radars, Triton™ 2 Pilots, Triton™ 2 and Nemesis® instruments, sensors and more
Setup Wizard for easy installation B&G® App integration - access data and charting both on and off the water
Wireless connectivity, plus full Ethernet and NMEA 2000® networking capability
For more information on B&G® and its cutting-edge sailing innovation for over 50 years, please visit https://www.bandg.com/
About B&G
B&G®, part of Navico Group, is world's leading sailing navigation and instrument specialist, helping sailors to sail further, faster and safer since 1955. B&G is an official partner of premier global sailing events, including The Ocean Race, SailGP and features a product portfolio dedicated to enabling sailors to be the best they can be, including B&G Zeus™, Vulcan™, Triton™ and the award-winning Nemesis™ among others.
About Navico Group
A division of Brunswick Corporation (NYSE: BC), Navico Group is the world's leading supplier of integrated systems and products to industries ranging from marine to recreational vehicle and beyond. The Navico Group portfolio is comprised of industry-leading brands in power management, digital control & monitoring, networked devices, and marine electronics. Some of the many brands that make up Navico Group include: Ancor, Attwood, B&G, BEP, Blue Sea Systems, C-Map, CZone, Garelick, Lenco, Lowrance, Marinco, Mastervolt, MotorGuide, Progressive Industries, ProMariner, RELiON, Simrad, and Whale.